KEYNOTE SPEAKERS
---
Fabio Babiloni
Title: Neuroscience on wild activities
Dr. Fabio Babiloni was graduated in electronic engineering and holds a PhD in Computational Engineering from the Helsinki University of Technology. He is currently Professor of Physiology at the Faculty of Medicine of the University of Rome "La Sapienza", Rome, Italy. He teaches "Physiology" at the University Medical School, "Industrial Neuroscience" to the Engineering Faculty, "Neuromarketing and Neuroeconomy" at the Psychology Faculty and "Biomedical Engineering" to the Biotechology Faculty of the same Sapienza University. Professor Babiloni is author of 250 papers on bioengineering and neurophysiological topics on international peer-reviewed scientific journals, and more than 250 contributions to conferences and books chapters.  He wrote 4 books on EEG signal processing. His total impact factor is 450 and his H-index is 55(Google Scholar). He is an Associate Editor of four scientific Journals, "IEEE Trans. On Neural System and Rehabilitation Engineering", "IEEE Trans. On Biomedical Engineering", "IEEE Reviews on Biomedical Engineering" and "International Journal of Bioelectromagnetism". Since 2007 is IEEE-EMBS Conference Editor and since 2012 is in the advisory committee of the IEEE-EMBS.
---
Henry Mahncke
Title: Brain Training and Dementia: New Results from the ACTIVE Study
Dr. Henry W. Mahncke is a research neuroscientist, who serves as CEO of Posit Science Corporation, the leading provider of plasticity based brain training and assessments. In 2003, Dr. Mahncke was hired as the first employee of Posit Science to head its research efforts, as VP of Research and Outcomes. He was named CEO in 2011. Dr. Mahncke did his undergraduate work at Rice University and received his PhD from UCSF, where he studied under Dr. Michael Merzenich, the world-renowned neuroscientist, who discovered adult plasticity and co-invented the cochlear implant. Dr. Merzenich would later co-found Posit Science, and recruited Dr. Mahncke to the company. After receiving his PhD, Dr. Mahncke became a consultant with the global strategy firm McKinsey & Co, where he led teams advising medical device companies and launched McKinsey's video game practice. After McKinsey, Dr. Mahncke served as a Vice Counsel on Technology to the British Government in Silicon Valley and San Francisco. At Posit Science, Dr. Mahncke established the company's global scientific advisory boards and extensive research program. That program has resulted in more than 130 published peer-reviewed articles on the efficacy of Posit Science brain exercises and assessments. Those articles show significant gains in standard measures of cognitive performance (eg, speed of processing, attention, memory, executive function), in standard measures of quality of life (eg, health outcomes, health-related quality of life, mood, depressive symptoms, feelings of control) and in standard measures of real world performance (eg, everyday tasks, driving, balance, gait). Dr. Mahncke is also principal investigator on a number of government (eg, NIH, DoD) grants, and has been involved (as an investigator or consultant) with more research studies on the impact of cognitive training on older adults than probably anyone else on the planet. To date, studies of Posit Science assessment and exercises have benefited from more than $50 million in research funding (largely through grants to independent university-based research teams). Dr. Mahncke is the author of numerous peer-reviewed articles, frequently presents at conferences and symposia, and has appeared on the Today Show, Inside E Street and many other television and radio programs.
---
Christos Papadelis
Title: Advanced multimodal neuroimaging for studying prevalent neurological pediatric disorders.
Christos Papadelis is an Assistant Professor of Pediatrics at Harvard Medical School and Research Associate of Boston Children's Hospital. Dr. Papadelis has more than ten years of experience in magnetoencephalography (MEG) technology with both adults and children. He has received the Diploma in Electrical Engineering from the Aristotle University of Thessaloniki, Greece, in 1998, and his MSc and PhD in Medical Informatics, in 2001 and 2005 respectively, from the same institute. After his PhD graduation, he worked as Post-Doc Researcher in the Laboratory of Human Brain Dynamics at Brain Science Institute (BSI) of RIKEN, Japan, from 2005 to 2008, and in the Center for Mind/Brain Sciences (CIMeC) of University of Trento, Italy, from 2008 to 2011. Back in 2011, he moved to Boston to join the Fetal-Neonatal Neuroimaging and Developmental Science Center as Instructor in Neurology and Lab Manager of the BabyMEG facility, one of the very few MEG laboratories in the world fully dedicated to pediatric research. His research covers a broad range of studies on neuroscience, clinical neurophysiology, and biomedical engineering. In the last three years, he focused his research on two common pediatric neurological disorders, namely epilepsy and cerebral palsy. Dr. Papadelis has a demonstrated record of accomplished and productive research projects leading to >35 peer-reviewed research investigation articles and numerous articles in conference proceedings. His work has so far been cited more than 1000 times. He is ad-hoc reviewer in 38 journals, as well as guest editor in special issues of his field, while figures of his work have been selected as covers for scientific journals.
---
Andrew Papanicolaou
Title: Applications of fMRI, MEG and TMS in the pre-surgical brain mapping.
Andrew C. Papanicolaou is professor and chief of the Division of Clinical Neurosciences and professor in the Department of Anatomy and Neurobiology of the University of Tennessee, College of Medicine and Co-Director of the Neuroscience Institute of the Le Bonheur Hospital of Memphis. He is also member of the Board of Regents of the University of Ioannina, Greece and member of the advisory Board of the Center for Applied Neurosciences of the University of Cyprus. He began his academic career in the School of Philosophy of the National University of Athens, Greece. After receiving his doctorate in Psychology in 1978, he joined the faculty of the University of Texas Medical School, where he directed the Center for Clinical Neurosciences holding professorships in the Departments of Neurosurgery and Neurology and adjunct appointments in the Department of Linguistics of Rice University and the Department of Psychology of the University of Houston. Since 2012 he joined the faculty of the University of Tennessee. In 1993 he established the clinical service of intraoperative electrophysiological monitoring at Hermann Hospital, the teaching Hospital of the University of Texas Medical School. In 2002 he founded and until 2006 directed the Summer Institute of Advanced Studies of the International Neuropsychological Society. In 2005 founded and in 2008 became the second president of the International Society for the Advancement of Clinical Magnetoencephalography. In 2008 he designed the curriculum and until 2014 he directed the graduate program in Clinical Neuropsychology at the Neurology Department of the National University of Athens. He is a Fulbright Scholar, an honorary member of the Hellenic Society of Clinical Neurophysiology and the Hellenic Society of Neuropsychology and the recipient of several distinctions and NIH grant awards for his research in epilepsy, developmental disorders and brain plasticity and in imaging the brain mechanisms of cognitive and affective functions. He is the author (or co-author) of more than 240 peer-reviewed articles and several books ranging from technical manuals (e.g. Handbook of Functional Βrain Ιmaging in Cognitive Neurosciences. Oxford University Press; Clinical Magnetoencephalography and Magnetic Source Imaging. Cambridge University Press) clinical textbooks (The Amnesias: A Clinical Textbook of Memory Disorders, Oxford University Press) to philosophical works both in English and in Greek (Plato: Critique of Pragmatism, Athens. Exantas Press; Bergson and Modern Thought: Towards a Unified Science. New York: Harwood Academic Publishers).
---
Katya Rubia
Title: Neuroimaging of ADHD: From matter over mind to mind over matter
Katya Rubia is Prof of Cognitive Neuroscience at the Institute of Psychiatry, Psychology and Neuroscience, King's College London, UK, where she heads the Section of Developmental Neuroimaging at the Child Psychiatry Department. Prof Rubia studied Philosophy & Psychology at the University Complutense Madrid and was further trained within her PhD and post-doc periods in Neurology, Neuropsychology, and Cognitive Neuroscience at the Ludwig's Maximilians-University in Munich and at the University of Amsterdam. Since 1995 she works at King's College London. She uses magnetic resonance imaging to understand normal development of cognitive functions and their abnormalities in developmental childhood disorders. The main focus of her research is on functional, structural and chemical neuroimaging of ADHD but she also investigates the neural correlates of related childhood disorders such as autism, conduct disorder, obsessive-compulsive disorder and childhood abuse. Another key topic is pharmacological MR imaging and more recently positron emission tomography (PET) to elucidate the underlying neurotransmitter abnormalities and the effects of ADHD drugs on brain function, structure and neurochemistry. Recently, Prof Rubia has moved into the field of Neurotherapeutics by use of fMRI-Neurofeedback in ADHD. Prof Rubia has published more than 180 papers in high impact journals, with an h-factor of 53, and 75% of her papers being cited within the 10th or 1st percentile of their fields. She obtained the Kramer-Pollnow Prize for her research in child psychiatry and is on the Editorial board of "Biological Psychiatry", "Biological Psychiatry: Cognitive Neuroscience & Neuroimaging" and "ADHD"
---
Arno Villringer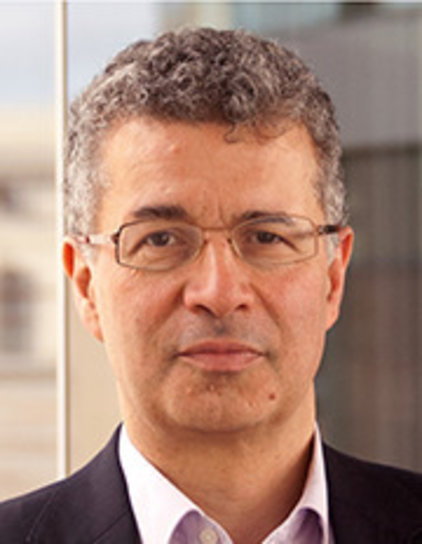 Title: Neurocognition of vascular risk factors - the long and winding road towards dementia
Arno Villringer studied medicine at The University of Freiburg (German: Albert-Ludwigs-Universität Freiburg) from 1977 to 1984, graduating with a Doctor of Medicine (summa cum laude) higher degree in 1984. After a fellowship at the magnetic resonance imaging unit at Massachusetts General Hospital at Harvard Medical School in 1985, he worked in Munich, Germany, becoming a board certified neurologist in 1992, and gaining his professorial degree (Habilitation) at the Ludwig Maximilian University of Munich in 1994. From 1993 to 2007, he worked at the Department of Neurology at the Charité, Berlin, first as a consultant, and later as head of the Department of Neurology at the Benjamin Franklin Campus. Since 2006 he has been Academic Director of the Berlin School of Mind and Brain and the Mind&Brain institute (since 2010), since 2007 he has been director of the Department of Neurology at the Max Planck Institute for Human Cognitive and Brain Sciences in Leipzig, Germany and director of the Department of Cognitive Neurology at University hospital Leipzig.